DISTILLERIES
Wyoming Whiskey Celebrates 10 Years of Toughing it Out in Extreme Terroir
Wyoming Whiskey is producing bourbon and American whiskey in a climate that is as extreme as the terrain is beautiful.
Oct. 2019Written by Brian WrightPhotography by Anna DeMasi
In the least populated city, the least populated county, and the least populated state sits the Wyoming Whiskey distillery. It is surrounded by wonderous nothingness and at the end of a road that begins far from nowhere.
It is here, in Kirby, Wyoming, where Wyoming Whiskey produces what is considered by many to be some of the most spectacular bourbons and American whiskeys in the country. It is 1,415 miles and countless canyons, deserts and mountain ranges away from the bourbon epicenter that is Kentucky.
"Wyoming Whiskey 'defiantly' not from Kentucky," says David DeFazio from his Jackson Hole law office.
A lawyer by degree, DeFazio — along with local cattle ranchers/lawyers Brad and Kate Mead — founded Wyoming Whiskey back in 2006.
The three had met 10 years prior. It was early on a Monday, and it was the morning after DeFazio was punched in the face by his soon-to-be-boss over a what was supposed to be a friendly arm-wrestling dispute at The Stagecoach in downtown Jackson Hole.
DeFazio's new boss worked at the same practice as Kate, and after the scuffle had settled, he had offered to pay him on the side to help him research a case. On the day DeFazio showed up to their office to start work — with a black eye — he struck up a conversation with Kate and the two realized that they had both attended Saint Lawrence University in upstate New York. Kate introduced DeFazio to her husband Brad, and the three quickly became friends.
10 years later, DeFazio gets a call from the Meads asking him to come over to discuss a business proposal.
"I rode my bike over, walked in and Brad said, 'We want to make bourbon.' I laughed. They didn't."
The Meads were serious. They wanted to start a distillery from scratch in a state that hadn't had one since prohibition. And they wanted DeFazio to figure it out.
From that day forward, the three of them set to work on building both a distillery and a whiskey brand that unquestionably embodied Wyoming.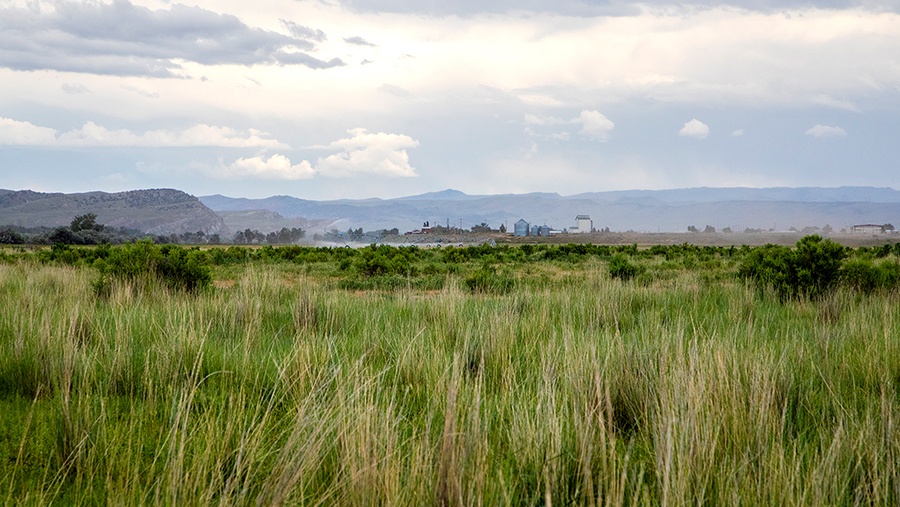 The first decision they made was to put the distillery in the center of the state, far away from the resort tourism of Jackson.
"Locating our distillery in Kirby was one of the biggest decisions we got right," says DeFazio. "Wyoming Whiskey represents all 97,818 square miles of this amazing state, including these small towns and cities that dot the landscape between the mountains and canyons."
In addition to being centrally located in the state, the distillery's location in Wyoming's Bighorn Basin provides it with all the ingredients necessary to create world-class bourbon and rye whiskey.
The corn, wheat and rye are all grown less than 100 miles away on a farm in Byron, Wyoming and the water is sourced from a limestone aquifer in the Madison Formation, which rests a mile below the town of Worland, Wyoming.
Of course, there are the people as well.
"People in Wyoming are stubborn if nothing else, but they're also incredibly proud," says Sam Mead, Wyoming Whiskey's Head Distiller. "They are a part of our DNA. Their hard work, care and craftsmanship makes Wyoming Whiskey a truly Wyoming made product."
It would be remiss, however, to not point out that there is some Kentucky DNA buried away in Wyoming Whiskey's genetic code.
The distillery itself is modeled after and scaled to the size of a full production distillery that you'd find on Kentucky's Bourbon Trail. Wyoming's copper stills were even built by Vendome Copper & Brass Works in Louisville, KY.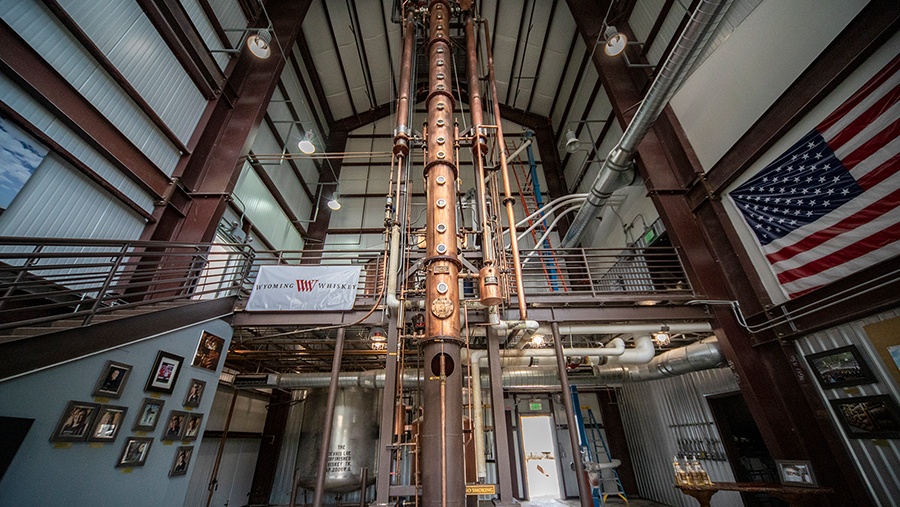 And then there's Wyoming Whiskey's original head distiller, Steve Nally, who spent more than 30 years perfecting Maker's Mark's signature wheated bourbon, and who developed the recipes for Wyoming's Whiskey's core offerings: Small Batch Bourbon (also a wheated) and Outryder American Whiskey.
"We definitely honor the traditions from Kentucky, but we're not trying to compete with Kentucky," says DeFazio. "Our bourbon is very different in its flavor profile than what comes out of Kentucky. That's due in large part to the terroir of this region. Most people point that out when they try our bourbon for the first time. They're like, 'This isn't like a Kentucky bourbon at all. I really like it.'"
The Wyoming terroir that DeFazio mentions is truly what sets Wyoming Whiskey a bar above the competition, and it is a key component to why DeFazio and company celebrated the distillery's 10 year anniversary this past July.
Scroll through the slide show above to learn more about the extreme terroir that makes his whiskey "defiantly" not from Kentucky.